There is a one-time non-refundable registration fee of $40.00 per child. This is due at the time of registration.
Tuition for camp is $260.00 per week. There is a 10% discount ($234.00) per week for each additional sibling attending. We do not split weeks or prorate for partial weeks.
Please note the week of July 3rd; camp is CLOSED Monday, July 3rd and Tuesday, July 4th. Due to the shortened week, the rates will be $160 per child and $145 for siblings. 
Weekly Deposit (New this Year)
New for 2023, each camper week is charged a $25 deposit at the time of registration. This deposit is non-refundable and applied to that week's tuition.
If you need to change weeks, your deposit will transfer to the new week.
Field Trip costs vary by each week and are not included in the tuition price. We do cap field trip costs at $60. Please note that no camper is required to attend any field trips; however, Adventure Kids does not provide care for those who do not attend the field trip on field trip days. Weekly tuition is not prorated due to a camper's absence on a field trip day.
Our waitlist is automatically generated when a week has reached capacity.
Campers are placed on the waitlist in the order they are registered.
Camper account will not be charged the deposit while on the waitlist.
If a space becomes available, you will be contacted by Adventure Kids and have 24 hours in which to confirm your acceptance.
Payment of the week's deposit is due immediately. If it is before June 1st, families can avail themselves of any payment plan that may still be available. After June 1st, the week's tuition and field trip fees are due in full. for waitlisted campers.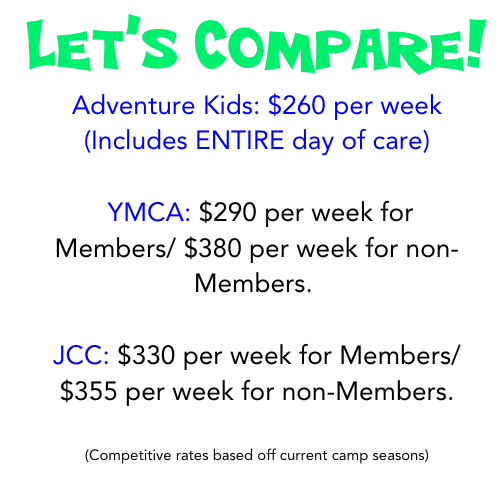 We offer several payment plans and options. All final payments for camp are due by July 14, 2023. No exceptions will be granted.
In the event that it is necessary for you to cancel any week, you will receive a full refund of tuition paid for that week minus the non-refundable $25 deposit and any field trip fees. Registration is also Non-refundable.
Registration 2023 Now Open